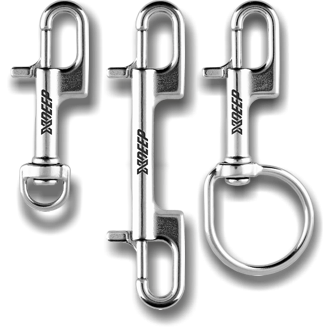 100% AISI 316
stainless steel
Materials technology is a critical component in the NX SERIES, it both facilitates and enhances the design elements. In the NX bolt snaps not just the clip, but the spring, gate and all parts of the NX SERIES are made from the highest quality AISI 316 stainless steel.
The AISI 316 marine-grade steel is utilized for its anti-corrosion properties with its increased nickel and added molybdenum content.
NX Series small bolt snap
Optimised for use on the 2nd stage regulator or long hose, for backup torches, small accessories, and cameras.
The NX design will allow you to replace previously larger snaps due to the ease of handling in a more compact design.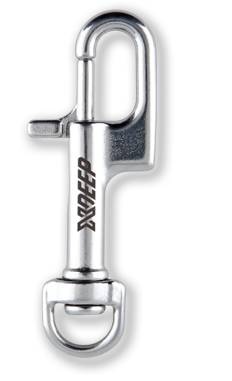 NX Series Large bolt snap
Perfect for stage cylinders, deco cylinders and sidemount cylinder bottom clips. Also good for stage top clips in cold water.
If you prefer a large clip for your SPG in Hogarthian style, the NX SERIES is ideal.
NX Series double ender
A good double ender is one of the most useful and versatile clips around. The NX SERIES is an excellent double ender.
Utilised on jump or SMB spools, as clips for sidemount pouches, securing backups in the drysuit pocket or simply as a working double ender on the right D ring, it performs flawlessly.